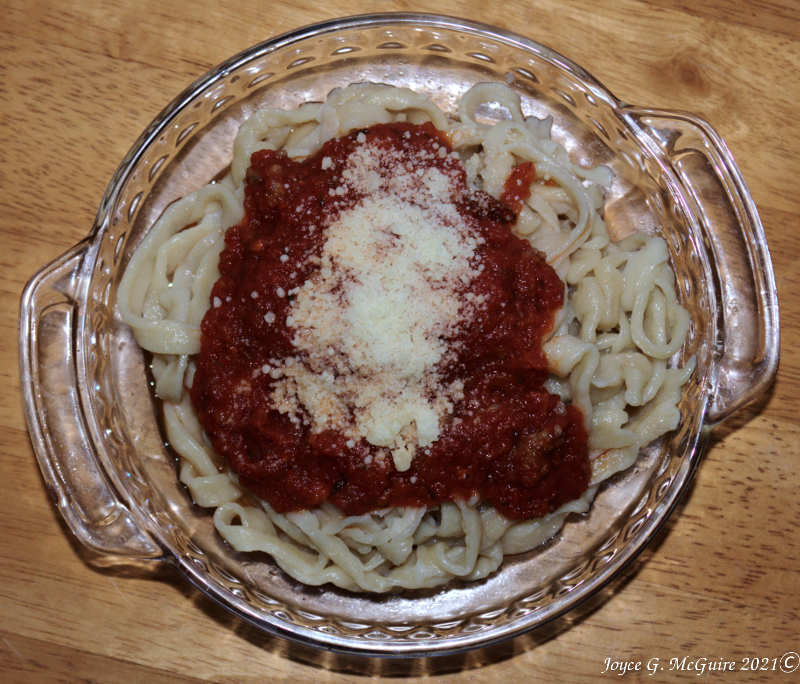 This summer we wanted to make Marinara Sauce to can some garden tomatoes our neighbor, Mrs. Beer, shared with us. We knew she often cans her extra tomatoes, so we asked for her favorite recipe. She gave us this one and we adjusted it very slightly.
We usually eat a whole quart of sauce with spaghetti, but decided to can pints instead this year. Our thought was to use it for extra special grilled pizza since we often have that with company. This sauce is also extra good on homemade noodles.
Using roma tomatoes are best for a thick sauce, but we usually combine them with assorted tomatoes from the garden. We think it creates a better blend of flavors.
Blanch tomatoes , peel and discard the seeds.

Chop tomatoes, placing in a colander to strain over a bowl until ready to use.

Use strained juice for soup or to drink.

Place (20 cups) chopped tomatoes in a large stock pot with 2 Tbl brown sugar and remaining ingredients except lemon juice.

Bring to a boil, reduce the heat to low and simmer, uncovered for 2 hours, stirring every now and then.

Adjust seasonings to taste.

Add more brown sugar if needed.

Use an immersion blender until blended through.

Use immediately, freeze or can.
Place 1 tablespoon bottled lemon juice in the bottom of each sterilized pint-sized jar.

Use 2 Tbl bottled lemon juice for quart jars.

Ladle the hot sauce into jars, leaving 1/2 inch head space.

Wipe the rims clean with a damp cloth.

Screw on the new lids and clean rims.

Place the jars in a boiling water canner and process 35 minutes for pints; 40 minutes for quarts.

(Adjust time to altitude, double check for area if unsure.)

Turn off heat and let jars sit for 5 minutes.

Remove the jars and let sit undisturbed for 24 hours.

Stored in a dark, cool place the jars will keep for at least a year but for best flavor use within six months.
Recipe lightly adapted from the daring gourmet