As the weather cools down, hot soup is a very easy and filling meal. This recipe has been adapted from a recipe that Mom M. gave to Angie who passed it on to me.
The turmeric is very subtle and more could be added easily without overpowering the other flavors. If you like ginger and garlic, go sparingly at first. They are not super strong, but will quickly overpower the chicken.
Serve as is with some fresh bread.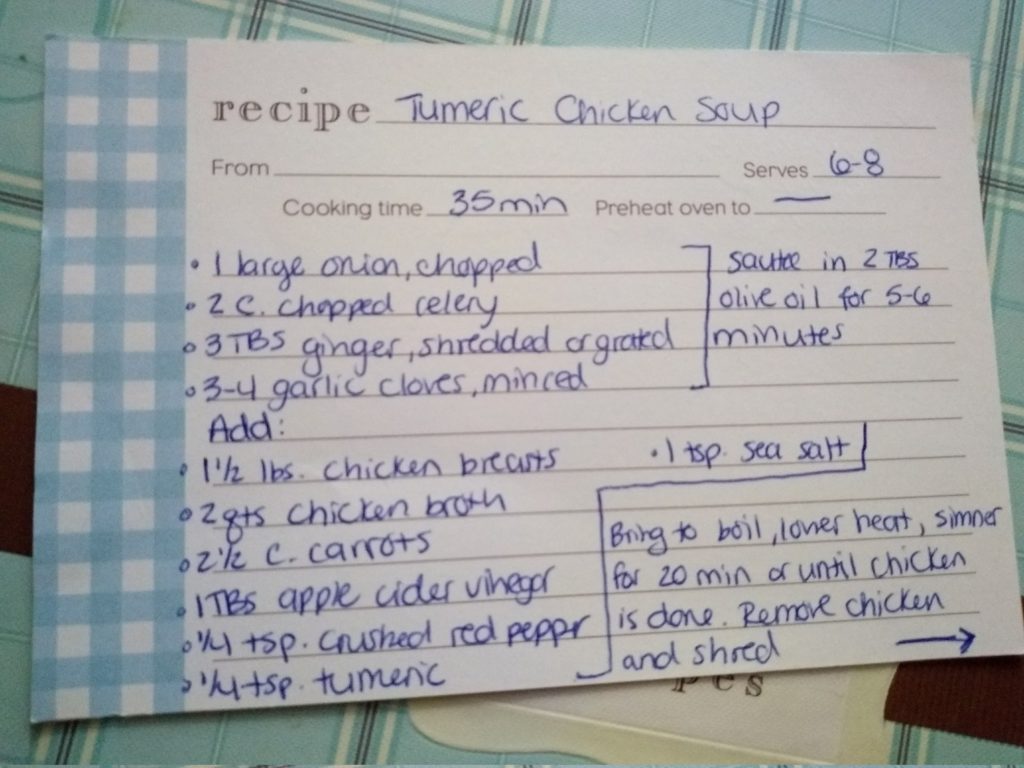 Saute onion and 1 cup celery in olive oil 5-6 minutes.

Add ginger and garlic and stir just until fragrant.

Turn off heat and add 1 quart broth and 4 cups cold water and salt.

Add chicken breast and turn heat to medium.

Bring the broth to a gentle boil.

As soon as it starts boiling gently, flip the breasts over.

Remove pot from heat and cover with a tightly fitting lid.

Once the chicken breasts register an internal temperature of 150° on an instant read thermometer, remove from broth. This will usually take about 5-10 minutes.

Cool breasts slightly before cutting into bite size pieces.

Add remaining broth, carrots, celery and vinegar to broth.

Simmer until vegetables are soft.

Add turmeric, mushrooms, sugar snap peas and chicken breast.

Serve with crushed red pepper as garnish.