I first discovered tiramisu when we went to an unschooling home school event at a waterpark.  Mark had pointed out a desert that he thought looked good, it looked like pudding in a chocolate bowl.
Later that day, Allan asked me what special treat I wanted.  So many looked good, but I decided to try Mark's suggestion.   I have been hooked ever since.
We have tried different recipes, but this is our favorite version of it.  It works with either regular or gluten free lady fingers.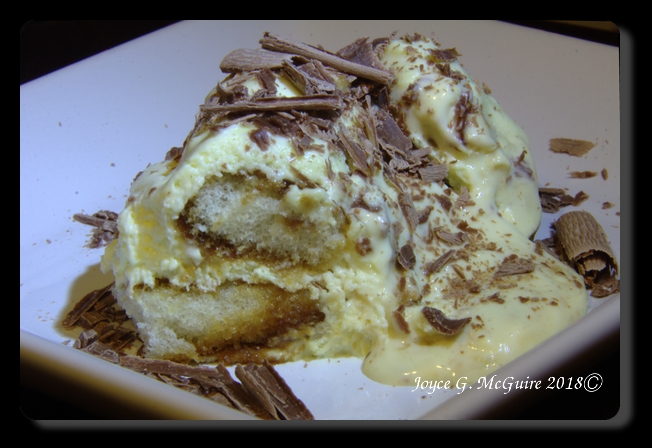 Combine cream cheese with 1/4 cup heavy whipping cream.

Combine egg yolks and sugar in top of double broiler, over boiling water.

Reduce heat to low and cook about 10 minutes, stirring constantly.

Remove from heat and whip yolks until thick and lemon colored.

Add cream cheese mixture to whipped yolks.

In a separate bowl whip remaining cream to stiff peaks.

Gently fold into yolk mixture and set aside.

Quickly dunk each lady finger in liquer and line the bottom of glass square pan or a 7 1/2 x 9 1/2 pan.

Spoon half the filling over cookies.

Repeat with remaining lady fingers and filling.

Garnish with chocolate curls if desired.

Refrigerate overnight for best taste.
Instead of cream cheese and 1/4 cup whipping cream mixture, replace with 1 1/4 cups mascarpone cheese.
* Use this recipe for coffee flavored liqueur.