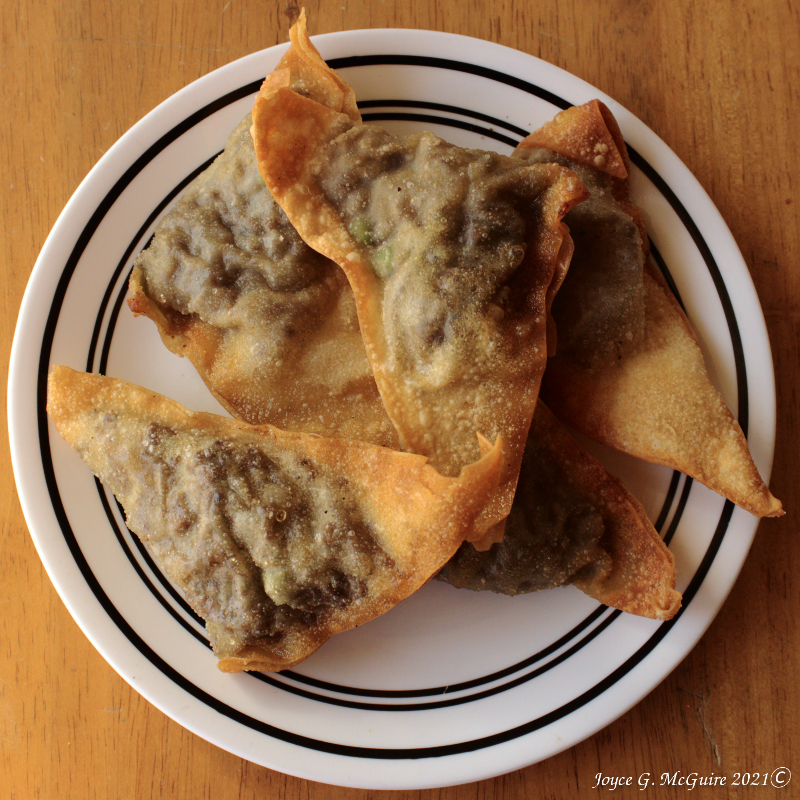 This was a favorite treat at all church potlucks! While this is very close to what I remember from Swaziland, I would love to be able to compare it and see how close we really are.
If you do not like spice, cut the spices in half for your first batch. These are not hot, but they are spicy.
Saute onions in olive oil until translucent.

Add ground beef and cook through.

Add seasonings, potatoes and water.

Stir well and simmer, adding more water if needed, until potatoes are cooked through.

Turn off heat, add peas and stir.

Drain thoroughly if needed.

Divide wantons skins in half diagonally.

Place 1 tablespoon filling on one side.

Moistened edges of dough with water or milk, fold over filling and press edges closed.

Repeat until done being careful not to over stuff samosas.

To cook, heat oil in heavy sauce pan to about 360 degrees.

Fry a few at a time until golden brown and crisp on each side (3-4 minutes), turning 2-3 times.

Keep warm in low oven uncovered, until ready to serve.

To freeze: Make samosas but do not fry.

Freeze in tight containers.

When ready to use, thaw completely before frying.

Reheat in needed, heat uncovered in oven until warm.