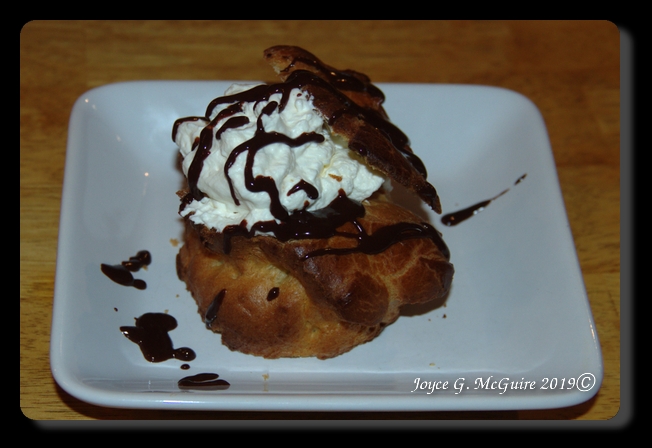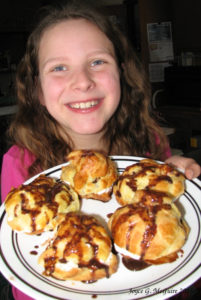 Many years ago, Andrea discovered "creamy puffs".  After her first taste she insisted that she wanted to learn how to make them.  So, at the age of 9, Andrea learned how to make "French Profiteroles".
Years later, Andrea still loves cream puffs and insisted that we make them to celebrate National Cream Puff Day (2 Jan).
Fill the puffs with vanilla ice cream for french profiteroles. Filling with whipped cream makes them cream puffs.  Either way is wonderful!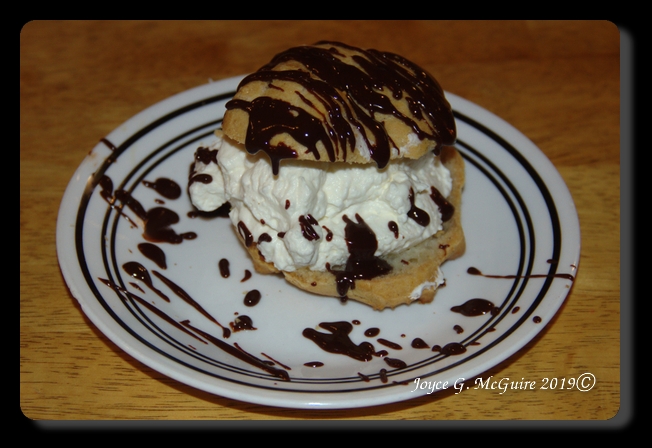 If you want to make these gluten free, substitute the flour with your favorite gluten free flour*.   They do not puff up as nicely, and they did not brown the same, but they taste great!

Preheat oven to 400 degrees.

Lightly butter baking sheet with 1 1/2 tsp butter and dust with flour. Set aside. (Try using parchment paper. The floured pan will smoke and burn)

Add butter, water and salt to a medium saucepan.

Bring to a soft boil and melt butter.

Take off of heat and add all the flour, mix well.

The dough should pull away from the sides of the pan and might leave a film on the bottom of the pan.

Place back on medium heat and cook and stir about 2 minutes. Remove from heat. Mixture should be very dry.

Pour into large mixing bowl and cool a couple of minutes.

Add 1 egg and beat with electric mixer on low until egg is beaten in.

Do the same with the remaining eggs. Dough should be shiny yellow and thick.

Form a tablespoon mound dough onto cookie sheet using two tablespoons. Or pipe into mounds using a large circle tip.

Should make 12 mounds, space them about 3 inches apart because they grow.

Bake for 30-40 minutes or until puffed and golden.

Remove from oven and pierce puffs with sharp knife. Return to oven and bake another 10 minutes.

Remove and cool completely.

To serve, cut each puff in half, scoop ice cream or whipped cream in center.

Top with other half of cream puff and spoon chocolate sauce over.
*We used Bob's Red Mill 1:1 Gluten free flour.
**Made by whipping 1 cup whipping cream with 1/3 cup powdered sugar.