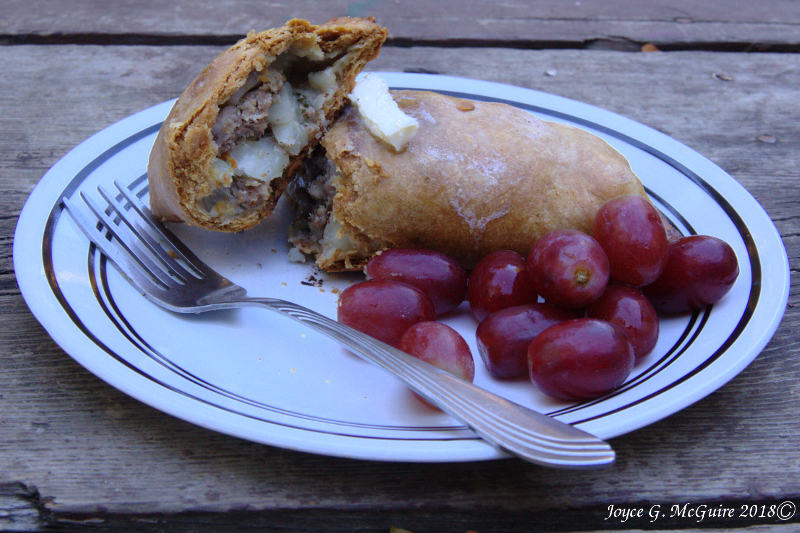 Pasties are popular in Calument where Daddy spent a lot of time growing up.  He said that Petila's taxi in Calumet would often take his family to McLain park and then come back at a prearranged time to take them home. His grandmother made them also. There are many recipes for pasties, but all are similar.
Feel free to experiment with the basic recipe. We often make the pasties with cubed meat instead of ground.  Be careful not to overstuff the crust, it is much better to have leftover filling!
When serving, I like them best with a little extra butter. Some people serve them with gravy. My mom eats them with ketchup.
Pasty crust is very similar to making a pie crust. The less you handle it, the flakier the crust will be. Using cold water helps also.

Make crust by mixing flour, salt and baking soda together.

Cut in butter until dough is the size of small peas.

Add one cup water and mix dough. Then add water, one tablespoon at a time until dough sticks together and forms a ball.

Place dough in refrigerator until vegetables are ready.

Divide dough into 15-20 pieces for dinner size (sharing size) pasties.

Roll each section to dinner plate size.

Mix all the filling ingredients, except for lard and butter, together. Divide filling between circles. Add lard (if using) and butter.

Or, place all vegetables down first and then add meat.

Add extra salt and pepper if desired. Sprinkle extra parsley to the top.

Fold crust over and crimp edges shut.

Bake at 425 for one half hour. Reduce heat to 350 degrees and bake another half hour. Crust will be brown and vegetables soft. it is easiest to check by poking with a knife.

Once cool, these freeze well.
Instead of lard or butter, add some diced bacon to the filling.