We enjoy learning new recipes every winter. Adrian decided that marshmallows sounded good to try this year. He attempted them himself and discovered they were a lot easier to make than he thought.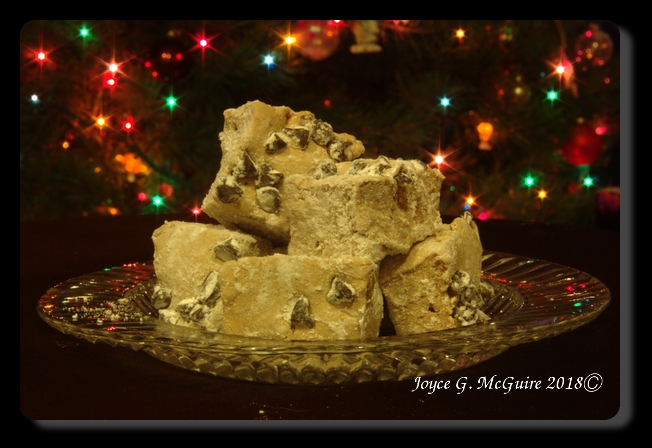 We used mini chocolate chips, but most of them melted. The next time we make these, we plan to omit the chocolate chips, but cut the squares larger and dunk them in the chocolate.
These taste great alone, but are also wonderful in hot chocolate!
In the bowl of a stand mixer fitted with a whisk attachment, sprinkle gelatin over 1/2 cup of the water.

In a small saucepan, whisk together remaining 1/2 cup water, granulated sugar, molasses, corn

syrup, and salt over medium high heat.

Cover and cook for 3-4 minutes.

Remove the cover and heat the mixture until it reaches 240 degrees F.

While the mixer is whisking over low speed, gradually pour the hot syrup down the side of the bowl.

After the syrup has been incorporated, increase speed to high and whisk until thickened, 12-15

During the last minute, slowly pour in vanilla and chocolate chips.

Grease a 9x13 inch baking sheet.

In a small bowl, mix together powdered sugar and cornstarch.

Pour into the greased baking sheet, shaking it around to fully coat.

Pour the excess back into the bowl and save till later.

Pour the thickened marshmallow into the pan. Grease a spatula and even out the mixture as much as

Sprinkle the top with remaining sugar and cornstarch mixture, spreading to thoroughly coat.

Remove excess back to the bowl.

Let the marshmallows rest uncovered at room temperature 4 hours to overnight.

Flip the pan over onto a parchment lined work surface.

Cut marshmallows into squares using a large knife.

Dust the cut sides of the marshmallows with remaining powdered sugar and cornstarch.

Store in airtight container and enjoy within 3 weeks.
Omit the chocolate chips for plain marshmallows if desired.  They would also be good with peppermint pieces sprinkled on top.
Use 3 packages unflavored gelatin instead of 2.5 tablespoons.
Found on tarasmulticulturaltable.com and adapted from Alton Brown